So, leave it to the BBC to perfectly sum up how I understand Christmas. I know, those Brits are always so warm and fuzzy. Not. I love this:  Vicar of Dibley, aside from being a funny and intelligent TV show starring the incomparable Dawn French, has pretty much nailed my entire understanding of religion in one quick monologue, flanked by vulgar jokes. From 1:05 to 1:30 or so of this video – GO WATCH IT and tell me I'm wrong.  We all have our grown-up issues with faith/religion/That lady pastor on TV with the short hair who yells at people a lot. But this? It tells your inner cynic to stuff it in a stocking. Oh what the heck, it's Christmas, I'm posting her quote. Deal with it:
"2000 years ago a baby is born in a stable; the poorest of the poor. And yet during his lifetime, he says things that are so astonishing, that millions of people are still living their lives by them today. He said, "Love thy neighbor." He told us to turn the other cheek, whatever people might do to us."
I don't know much else, but 1:05 – 1:35, especially? It's comforting to hear something that I get, and am very good with. Another awesomer-than-awesome story I stumbled upon just this morning, belonging to the superb blogger Allie Brosh is a post at Hyperbole and a Half. Here you go:  The Year Kenny Loggins Ruined Christmas. If you've never heard of this creator of the "Do all the things" meme graphic…
Do your brain a favor and go read her illustrated narratives. Her Christmas Story is the best thing ever. I woke the husband up by laughing in bed this morning. So, religion, explained by Ms. French so I can get it, and a freakin' funny story: My Christmas gifts to you, my throngs of devoted readers.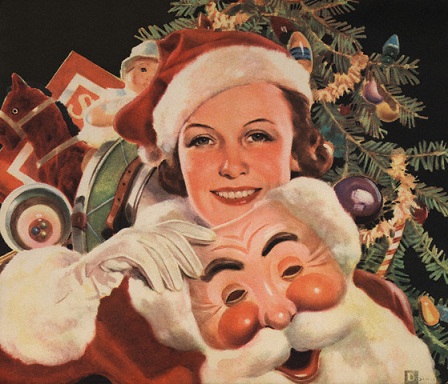 PS: Yes I'll blog more in the New Year.  
 No idea what this chick is smiling about. Being Santa is hard work.